Dan Savage discussing JIMMY IN SAIGON with Peter McDowell, featuring a special guest appearance by Jonathan Ames, moderated by Helen Estabrook. Also featuring JEMS, Robbie Fulks, Nora O'Connor, Luna & John McDowell, Acoustic Eidolon, and Mia Park. 
DATE: SATURDAY SEPTEMBER 26
TIME: 5:00 – 6:30 PM CST
All PYGMALION 2020 programming is FREE and ALL VIRTUAL — see our Partners page to see the amazing list of organizations that helped make this possible.
Though our programming is free, please consider donating to benefit these organizations.
ABOUT JIMMY IN SAIGON:
A documentary film in the making, Jimmy in Saigon explores the mysterious life and death of James Austin McDowell, a Champaign-Urbana native and Vietnam veteran who died at age 24 in 1972 as a civilian in Saigon. Painting an elegiac portrait, director and producer Peter McDowell uncovers family secrets, getting to know his brother who died when Peter was only 5 years old.
After years of work, Jimmy in Saigon is nearing completion: Peter and his team aim to have a rough cut of the film by the new year and to finish Jimmy in Saigon this coming spring. Excerpts from the current cut will be featured during the live event with executive producer Dan Savage. All donations to Jimmy in Saigon go towards the completion of the film.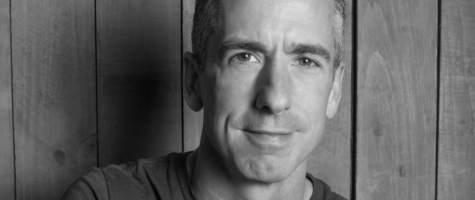 ABOUT DAN SAVAGE:
Dan Savage is a writer, TV personality, and activist best known for his political and social commentary, as well as his honest approach to sex, love and relationships.
Savage's sex advice column Savage Love is syndicated in newspapers and websites throughout the United States, Canada, Europe and Asia. He is the Editorial Director of The Stranger, Seattle's weekly alternative newspaper, and his writing has appeared in publications including The New York Times, The New York Times Magazine, GQ, Rolling Stone, The Onion, and on Salon.com.
Savage is also the author of several books, including: Savage Love; The Kid: What Happened When My Boyfriend and I Decided to Get Pregnant (PEN West Award for Creative Nonfiction, Lambda Literary Award for Nonfiction); Skipping Towards Gomorrah: The Seven Deadly Sins and the Pursuit of Happiness in America; and The Commitment: Love, Sex, Marriage and My Family, In his latest best-selling book American Savage, Dan shares his insights on topics ranging from marriage, parenting and the gay agenda to the Catholic Church and sex education. It's Dan's frank and open discussions on such topics that had Publishers Weekly rave why he is, "America's most in-your-face sex columnist and gay rights activist."
Through his partnership with Hypomania Content, Savage expanded his creative career to film and television. Along with co-writer David Marshall Grant, Savage is currently penning an adaptation of Michael Ausiello's book SPOILER ALERT with THE BIG BANG THEORY's Jim Parsons attached to produce and Michael Showalter (THE BIG SICK) to direct. Savage is also a consulting producer on Showtime's docuseries COUPLES THERAPY.
In addition to his appearances on CNN, MSNBC, The Colbert Report, and The Tonight Show, Savage has contributed to Ira Glass's This American Life, and has appeared on NPR's Fresh Air with Terry Gross, HBO's Real Time with Bill Maher, and ABC's 20/20. Savage also hosted the storytelling podcast Hot Mic with Dan Savage, available on Audible Channels.
In September 2010, Savage created a YouTube video with his husband Terry Miller to inspire hope for LGBT young people facing harassment. In response to a number of students taking their own lives, Savage and Miller wanted to create a personal message to let LGBT youth know that "it gets better." Today, the It Gets Better Project (www.itgetsbetter.org) has become a global movement, inspiring more than 50,000 It Gets Better videos viewed over 50 million times. The It Gets Better book, co-edited by Savage and Miller, was published in March 2011, and an MTV documentary special IT GETS BETTER aired in February 2012.
Savage grew up in Chicago and now lives in Seattle, Washington with his husband Terry Miller.    
Photo by Roman Robinson. 
ABOUT PETER MCDOWELL:
Surrounded by opera as a child and trained as a musician and actor, Peter McDowell (Director and Producer of Jimmy in Saigon) has always been drawn to melding story, image and sound in his artistic creations. He produced opera and other arts events professionally at the Chicago Cultural Affairs from 1997-2006; prior to that, he directed two Super-8 short films in the early 1990s that were shown at San Francisco's Frameline Film Festival. One of those shorts, I Dream of Dorothy, went on to festivals worldwide. In addition to filmmaking, Peter works as a nonprofit arts manager, which has helped him bridge the creative aspects of filmmaking with the more managerial aspects essential for production. Peter hails from Champaign, IL, graduated from the University of Illinois at Urbana-Champaign and the University of Wisconsin-Madison, and is the recipient of a highly competitive three year International Arts Management Fellowship at the University of Maryland. For Jimmy in Saigon, Peter was the recipient of a Chicago Department of Cultural Affairs and Special Events Individual Artists Program grant and a California Humanities Council grant. He currently lives in Los Angeles, and in addition to filmmaking, he is Development Director for American Friends of the Louvre and owns and operates his firm, Peter McDowell Arts Consulting.
ABOUT JONATHAN AMES
Author JONATHAN AMES will make an appearance at the event, as a fan of Jimmy in Saigon. You may know Jonathan from his books Wake Up Sir!, What's not to Love? and I Pass Like Night; or his TV shows Bored to Death and Blunt Talk.